Just arrived at my hostel here in sunway...
*jet lag!!!*
I flew from Brunei via Air Asia instead of Miri, & so....
I GOT TO EAT SUSHI @ EXCAPADE !!! REJOICE !!!
Why am I so excited?? Why... these aren't just normal sushi... they are by far
(in my opinion)
the best sushi in Malaysia & Brunei! I've tried quite a number of different japanese restaurant here in Malaysia, but nothing beats EXCAPADE SUSHI!
F.Y.I. EXCAPADE SUSHI is only available in Brunei, the one that I went to, as seen on the picture above, is the 2nd branch in Kiulap. It was my first time dining in this Kiulap branch. The branch that I most frequently went to was actually the one in Kuala Belait.
My family & I went to have lunch there before going to the airport
(gotta catch my flight in time for the new semester!)
. As usual, the restaurant was jam-packed! We waited for approximately 15 mins for an empty table
*so worth it!*
.
The following are pictures of my favourites at EXCAPADE:
*I googled all of the pictures as seen in this blog post actually, forgot to take pictures of my own as I was way too eager to start eating!*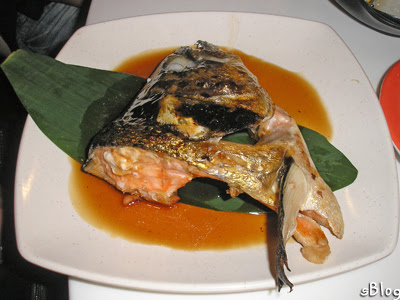 The famous Grilled Salmon Fish Head! A must-try here in EXCAPADE. We always ordered this whenever we dine here.
Left: Scallops covered in fish roe I presume. Very savoury!
Right: Grilled salmon & asparagus
Edamame~ I've read about it somewhere that eating these young soy beans are ideal for people who wanna lose weight as they were considered to be fat-burners!
Introducing... Rock & Roll! The slice of unagi on top... Delicious!
If you are a salmon-lover like me, you will definitely enjoy this! It's called Manhatton Maki & you'll probably guessed it, crispy salmon skin on the outside!
Alaskan Maki! Look at the enormous chunk of salmon in the middle, they are soooo generous when it comes to salmon!
Okay, enough of the visuals here... getting reallllyyyy hungry here!
I miss EXCAPADE SUSHI so much everytime i'm in kl...
Unfortunately, I have to wait 7 more weeks in order to go back to my hometown...
Hope to go back soon & trust me... Excapade sushi will be my very first destination once I stepped out of the aeroplane!