One word... Gaga!!!
Theatricality often comes to mind...
*or others might like to call it... INSANITY!
Love it or hate it, there is no doubt that Lady Gaga's got Haute Couture swimming in her veins!
From the starting point of her career, Lady G had displayed quite a flow of fashion savvy-ness that not a lot of people have the guts to go for it.
Actually, it takes more than guts to give what Gaga's been flashing to the entire world.
From her minnie mouse hair days to that krazy Kermit the frog look...
*and several odd mix of lingerie and fishing gears in between...
All these for the sake of feeding the attention hungry paparazzi and the media.
As a celebrity, Gaga's crazy theatricality stints can be explained due to her rising stardom and the idea of so-called "raising the bar" of expectations...
And... according to Gaga herself, the reason for all of the freaky-nightmarish costumes is because she wanted to tell her fans that it's ok to be a freak; a social outcast, knowing that there will always be someone out there who is more of a freak than any of them... Who is that freak you say? Well, Gaga of course!
*no surprise there!
Before her fame and stardom blew up, that is, before all of the crazy costumes...
There had been a side of Gaga that seem to possess naturally-born swagger so-to-speak...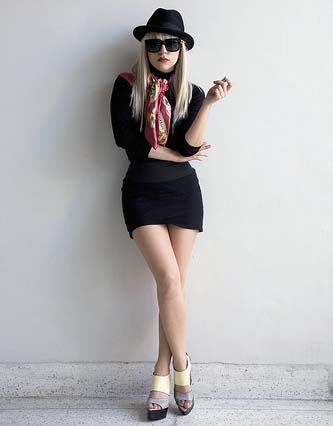 Even till now, beyond all of the craziness that pervades her wardrobe these days,
there are elements in her style of clothing that verify her sense in high fashion.
Her overall style, from the choice of clothes to shoes and even that infamous sleek platinum blonde hair, give a sense of edginess/audacity/couture/eclecticism/provocativeness...
Looks like a Miu Miu ad to me!
The Haus of Gaga: The creative mind behind Gaga's looks and performances behind-the-scenes.
One of my favorite looks of Gaga's happens to be the couture-tastic Armani Prive ensembles she wore to the Grammys. Ironically enough, Gaga tops several best-dressed list as well as several worst-dressed list during music's most important night.
Another great look, or shall I say, looks, graces her music video for her hit Bad Romance.
When I first saw the music video, I was stunned not by the obviously tantalizing music and visuals, but by the number of Alexander McQueen's 10-inch platforms that made a cameo in her music video.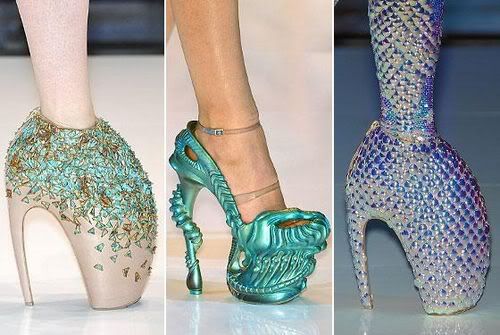 I know this is old news but I felt that Gaga's hadn't been given enough credits for her couture endeavors,
*despite some IDK-how-to-put-into-words looks here and there!
And I gotta tell ya, the cost for all of the couture used in the making of the bad romance music video could feed the entire nation of a small country!
*over-exaggerated much?
Oh how I wish that I could strut the streets in 10-inch heels!
Some might called it crazy, I called it
FABULOUS
!!!