Wore electric blue today! with gun metal chains draping over the neckline.
Androgynous women carry themselves in a way that is sexy yet feminine despite the link to masculinity.
For the record, I had been interested in androgyny ever since I saw my very first runway show...
*glimpse of it, is the more appropriate word!
It was Giorgio Armani's spring/summer ready-to-wear collection back in 2007, when I was only 14 years of age. And so, this kinda, in a way, contributed to the fact that Armani had been topping my list of the most talented designers ever!
Armani Prive is the first show that I would check out during fashion week. The couture creations are just breathtaking! One of my life-long dream is to walk down the aisle in an Armani original!
*a-la Katie Holmes!
Another prominent figure in embracing androgyny is the legendary Yves Saint Laurent.
Throughout his career, I had been falling in love with the way he made the otherwise masculine-looking tuxedo look feminine, sexy and chic!
a.k.a. the icon
ic YSL pantsuits!
No wonder I always had a soft spot for blazers and jackets!
Yves Saint Laurent autumn/winter 09/10 collection
One of the most important creations in his legacy was Le Smoking. One of the first ever tuxedo for women that had taken over the fashion world by storm since its debut. It was considered to be a groundbreaking creation as women back then was stereotypically obliged to wear "womanly" clothing such as skirts and dresses. Pants were pretty much worn only by men and men alone. I think it's safe to say that YSL's creation pioneered the idea of androgyny in the fashion world.
Speaking of YSL, Stefano Pilati's collection for autumn/winter-10/11, was definitely one of the must-check-out collections of the season.
In short, the collection somehow persuaded me to go to church in a way...
As a starting point, from what seem like a somber note,
and some A line silhouettes and black straw hats later
, I was greeted with some block of bright colors which I feel is a great way to bring the entire collection to an end.
Always fond of the use of colors in fall!
Some androgynous icons...
60's icon Twiggy, known for her androgynous short hair.
British mainstream actress Tilda Swinton, recognized by Vanity Fair on their International Best-Dressed List for her androgynous style.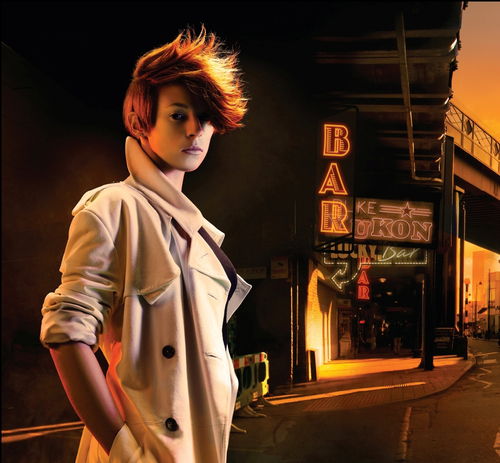 British electro-pop singer La Roux, her Vanilla Ice faux-hawk says it all don't cha think?
And who can forget Linda Evangelista, she bravely chopped off all of her hair and had generated a new generation of women that believed that women can have a short boyish cut and still manage to look feminine and sexy.